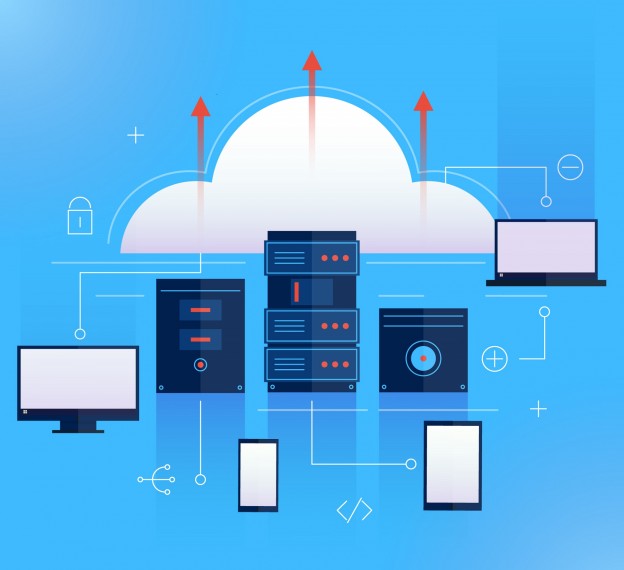 When it comes to hosting, there are a lot of options available to host a website. For entrepreneurs, Shared Hosting seems to map the needs, and for business websites, Dedicated Hosting leads the charge. The difference between the two lies in the features and functionalities. Where Shared Hosting is cheap but limited in features, Dedicated Hosting offers a secured infrastructure but imposes huge charges.
What if you wish to have a secured hosting space but at nominal prices? Neither Shared nor Dedicated Hosting would be the right fit. This is where we introduce the concept of Virtual Server Hosting or VPS.
VPS Hosting or more specifically, Virtual Private Server Hosting is one of the hosting services that are reliable, flexible and at the same time, economical. Whether you have a small-sized enterprise or a big fat organization, hosting on VPS meets the requirements of all. As so it appears, VPS Hosting is ideal for the ones that require more space as offered by Shared Hosting and want to pay less in comparison to the Dedicated Server Hosting.
So, what exactly is Virtual Private Server Hosting?
What is VPS Hosting?
Virtual Private Server is a notion where single physical hardware is segregated into different virtual servers, each that has total access to the root. To put it this way, in VPS Hosting a single physical server is split into two or more servers, and each of these has its own OS, RAM, and CPU. The admin has total control and can configure and manage the server as required. It would not be wrong to say that VPS Hosting is the robust version of Shared Hosting and the economical type of Dedicated Hosting.
How Does VPS Hosting Work?
Linux VPS Hosting or simply VPS Hosting is based solely on the virtualization technology. Apparently, the term virtual is present in the name itself. With respect to VPS Hosting, virtualization takes place in a way that a single server is divided into multiple ones where the prime hardware creates an impression of running as a different server.
But how does this virtualization takes place?
Every Linux VPS Hosting service provider has a virtualization software that is embedded in the system and used to create a virtual compartment. What this does is extracts the ideal resources of the hardware and then crafts a replica of the same that can be used distinctly by each of the servers.
In true sense, we have single hardware being shared, but the influence of virtualization software embodies the utilization of separate resources for each server, also known as the virtual machine. This implies that every server or the virtual machine has its own set of resources and hence, no data is shared.
All in all, VPS Hosting ensures
Optimal Performance: Higher space and no resource sharing ensures a greater uptime, enhancing the website performance.
Improved security: The virtualization technology enabled the creation of an infrastructure where each of the servers runs in an isolated environment, and one has no idea of a second server being present on the same hardware.
Server root access: The isolation created accounts for total access to the root.
Advantages Of VPS Hosting
As mentioned time and again, VPS Hosting is one such hosting that has higher flexibility. As it does not allow any sort of resource sharing, all of the data stored and hosted over the website is secured and protected. Further, the total accessibility of the root allows website managers to modify and configure the server, download and install applications when needed. Whether you opt for Windows VPS Hosting or Linux VPS Hosting, you will always have exposure to all of the features of VPS Hosting.
When To Make A Switch?
One question that surfaces on the mind of every website owner is when to make a switch or under what circumstances should one invest in VPS Hosting service
Deteriorating Website Speed: You might have a website hosted on Shared Hosting services. You have put all your efforts to get the website running and generate revenue; still, the website suffers from uptime and has extremely poor speed. Under such a situation, it is advised that you upgrade your hosting services and move to VPS Hosting.
Increasing Traffic: As a beginner, the Shared Hosting services appealed to you the most. To your surprise, your website worked well and started gaining decent traffic. Though it started with ten visitors a day, today it experiences hundreds of thousands of traffic and maintaining this on Shared Hosting isn't possible. All that the website does is shut down the traffic and lower your rankings. The best thing here to do is level up. Now, Dedicated Hosting is a bit expensive, and you may or may not have that budget. For now, you can upgrade to VPS Hosting.
Security Concern: If you have a business website and encompasses monetary transactions, buying Shared Hosting plans would be equal to compromising the security and privacy of user data. It is advised that for business websites, one must always opt for VPS Hosting or Dedicated Server Hosting. Now Dedicated Hosting will cost you high. So, if you are a novice, VPS Hosting is the best fit.
Wrapping Up – Finalizing The Plan
Before you finalize the hosting plan, you need to decide whether you want to go for Managed Hosting or Unmanaged. In case you are tech-savvy, you can very well opt for Unmanaged Hosting, if not, invest in Managed Hosting plans. Also, you need to decide whether you are to host the site on Windows or Linux. From the feature point of view, Linux VPS Hosting is always beneficial. But if you need to run the website on ASP, Windows VPS Hosting serves the purpose best.
With that being said, it is pretty clear that VPS Hosting is an ideal choice for small and medium-sized organizations. In case you fall on the list, you can go ahead to buy one of the plans from the suitable hosting service provider.